While Boston is a lively city full of amenities, top shopping spots, excellent dining, and entertainment, you might be hoping to reconnect with nature. Thankfully, the city offers plenty of that, too – from beautiful green spaces to the zoo and Boston Common. So, if you're interested in houses for sale in Boston, read on to learn about some of the best options for getting outside.
Visit the Boston Harbor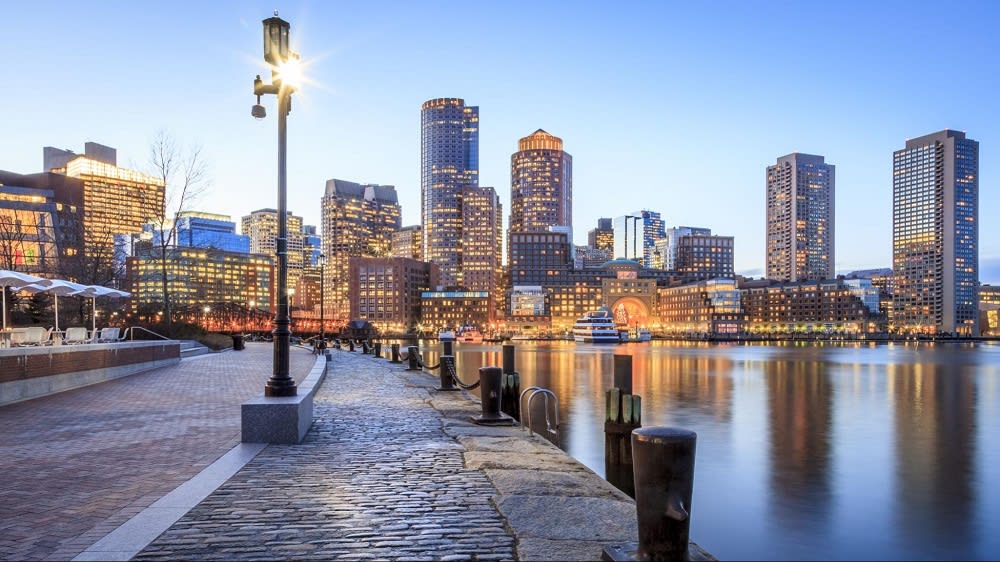 Photo courtesy of Shutterstock
For a fantastic mix of enjoying nature and discovering the area's history, the
Boston Harbor Islands State Park
is a must-see. With 34 different islands and 12 that are open to the public to explore, there is always something new to see and do. If you want to get away and take part in some of your favorite outdoor activities, this is the place to do it, from canoeing and kayaking to camping, swimming, and hiking. Another thing that people love about the islands is that you can have the unique experience of riding ferry rides from the harbor into the islands.

Lighthouses are a big attraction to the Boston Harbor Islands as well. You can find them throughout many of the different islands. If lighthouses are of interest to you, you even have the opportunity to take the Lighthouse Cruise, where a boat will take you through some of the most picturesque spots around. The timing of the cruise in the evening also makes it perfect for getting to see beautiful sunsets. So whether you want to do some fun activities in nature or you want to explore some unique scenic spots, the Boston Harbor Islands State Park has it all.
See the Rose Kennedy Greenway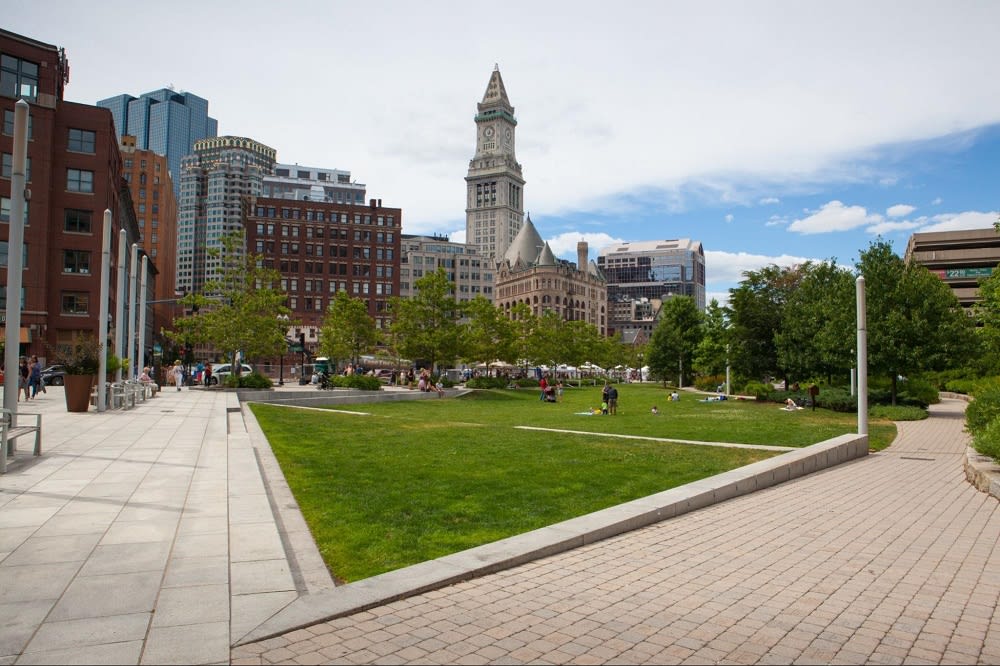 Photo courtesy of Shutterstock
The Rose Kennedy Greenway
combines Boston's urban feel with a nature and park experience. Here, you will truly get the best of both worlds between nature and city living. If you want to reconnect with nature while still getting to be in urban downtown Boston, this is a perfect way. You will see some beautiful greenery, such as the tree-lined streets and plants while getting to enjoy food trucks, exciting events, art installations, and so much more.
There is always something new happening at this park, so be sure to check out their
website
to take a look at all of the upcoming events and things to do. It's the perfect spot for anyone who wants to be outside in the heart of the city of Boston. One key beloved feature of the park is its famous carousel. Its New England design is stunning, with the rides of hand-carved animals that people of all ages love! It even lights up at nighttime. There is also the Greenway meadow, which is filled with beautiful wildflowers, and the Carolyn Lynch Garden, which is known for its bright colors and seasonal flowers. There is truly something for everyone to enjoy at the Rose Kennedy Greenway, making it a can't-miss spot in Boston.
Walk through the Boston Public Gardens
The
Boston Public Gardens
are truly a wonder to see. As the United States' first public botanical garden, with over 600 species of trees and flowers to look at, any nature lover will instantly fall in love. People have been coming back to this garden since it first opened in 1837.

Another thing that the Boston Public Gardens are famous for is its stunning swan boats. See the park's lagoon, many different monuments, and gorgeous water fountains. Beyond being a stunning display of nature, the gardens are also an artistic wonder. The Victorian style and the design of the park and the plants within it have even won the park awards! If you're interested in learning more about the park's rich history while you're there, be sure to pick up one of their detailed brochures. With so much to see at these gardens, the Boston Public Gardens continues to be a Boston favorite for both locals and visitors alike.
Enjoy the Charles River Esplanade paths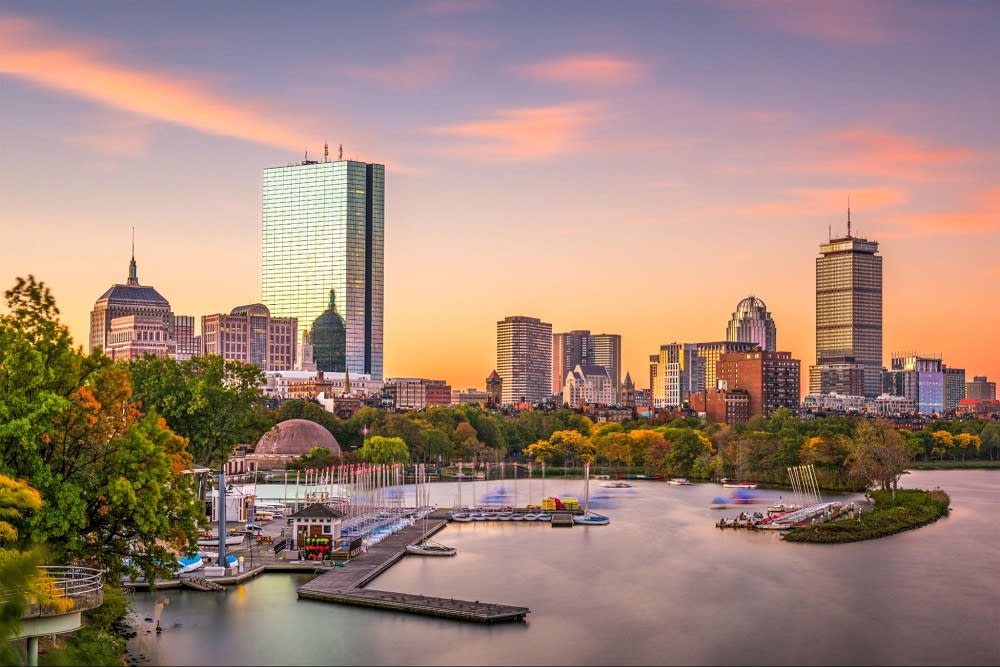 Photo courtesy of Shutterstock
The scenic paths and trails at
Charles River Esplanade
make it one of the best places to reconnect with nature in Boston. The beauty of the river makes it a place that runners, walkers, and cyclists love. One of the best parts of this esplanade is how you feel like you're away from the city, so you can get that nature getaway, when in reality, you're not far away at all. You don't have to travel far out from the city to find this peaceful spot. Another thing people like to do at this park is to have a charming picnic. Its views and tranquility make for fun times with friends and family.

If you're a music lover, you will love the Charles River Esplanade in the summertime. Every year at its Hatch Shell, they host an exciting summer concert series, where you can see some fantastic outdoor shows. So if you want to reconnect with nature while being close to Boston, check out the Charles River Esplanade.
See animals at Franklin Park Zoo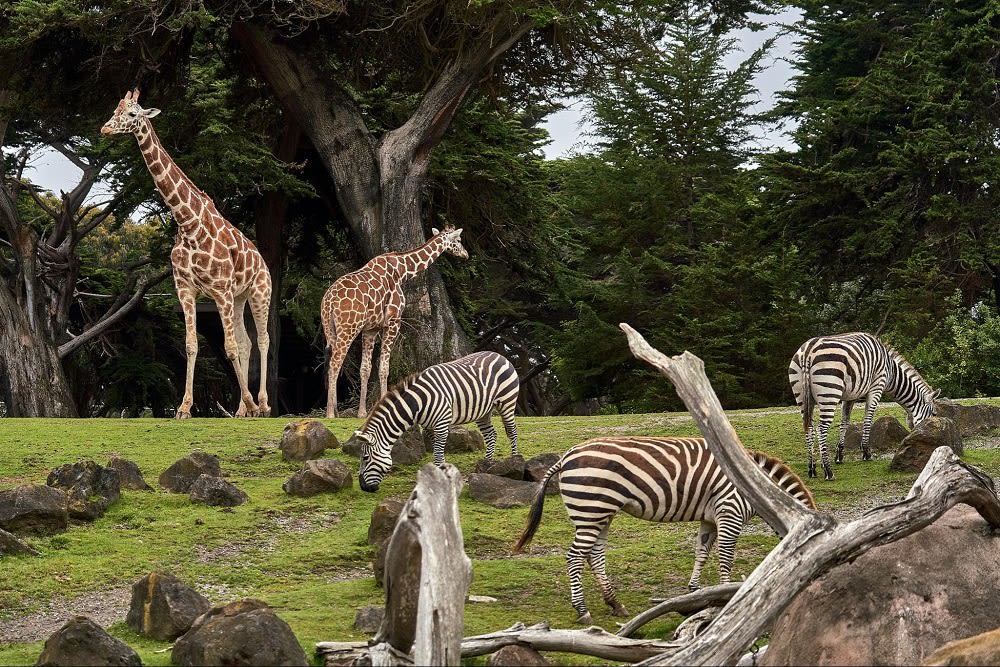 Photo courtesy of Unsplash
People of all ages like what
Franklin Park Zoo
has to offer. They are home to animals from all over the world, with animals like gorillas, giraffes, lions, and so many more. They have over 100 kinds of animals that you can see. One of the largest attractions of this zoo is its one-of-a-kind giraffe experience. You can even book a giraffe encounter, where you can be face-to-face with these tall animals and even have the opportunity to feed them! They have a guide who will help you through it all as well.

The zoo is home to plenty of events throughout the year too, with one favorite being the Boston Lights. At this event, you can see 72 acres worth of gorgeous lanterns. Be sure to take a look at their website for any special exhibitions or events going on when you visit. This zoo is a fantastic way to take in some nature and connect with animals you might not be able to see in the wild.
Take in Boston Common
Boston Common
is a well-loved park within the city and is the oldest one in all of Boston. It's a great way to take some time to relax in nature, go on walks, or even have a picnic. People enjoy this park in every season, whether it's classic outdoor activities in the summer or skating in the winter. It is home to the Frog Pond, which is the site of this ice skating experience in the wintertime. In the summer months, the Frog Pond is a splash pool that children can have fun in. Boston Common is the site of many sports games too, making it an excellent place to stay active and have fun. There are plenty of fields, such as baseball fields, that people can go and play on. No matter what time of year it is, there is always a lot to do and many ways to be in nature at Boston Common.
Buying or selling in Boston?
The natural spaces in Boston are just one of the reasons why its residents love to call this city their home. If you're interested in Boston real estate, get in touch with
Jim Burton
at RE/MAX Destiny. With over 35 years of experience,
Jim
can help with all of your buying and selling needs. Get started today!

*Header photo courtesy of Shutterstock